The half marathon is one of the most popular long-distance running races in the world. This race and event is a good opportunity to challenge yourself with some extra miles, especially if you have made it past the 5K and 10K milestones in a runner's journey. Or, you could be an experienced runner who is looking to break a personal record (PR), or perhaps even one among other runners. Whatever your goal may be, each journey needs preparation and some extra information.
Here is everything you need to know concerning half marathon time, national averages, and how to get the best out of your race.
How Long Is a Half Marathon?
A little less ambitious than the marathon itself, but certainly as impressive when it comes to endurance, the half marathon is a long-distance race of 13.1 miles, quite literally half of the 26.2 miles of a marathon.
This distance is easier to tackle if you have a weekly running mileage of around 12-20 miles per week, from which you can then train your way through to the half-marathon.

As for time, most half-marathons have a time limit of completion. This is due to logistical reasons; the organizers have to open roads again, they cannot provide assistance and services during the entire day, etc. The so-called cutoff time varies from race to race, but most often, runners will have a time limit of three and a half hours to finish the half-marathon. However, there are still plenty of walker-friendly events and do not have a finishing time limit.
What Is the Average Half Marathon Time?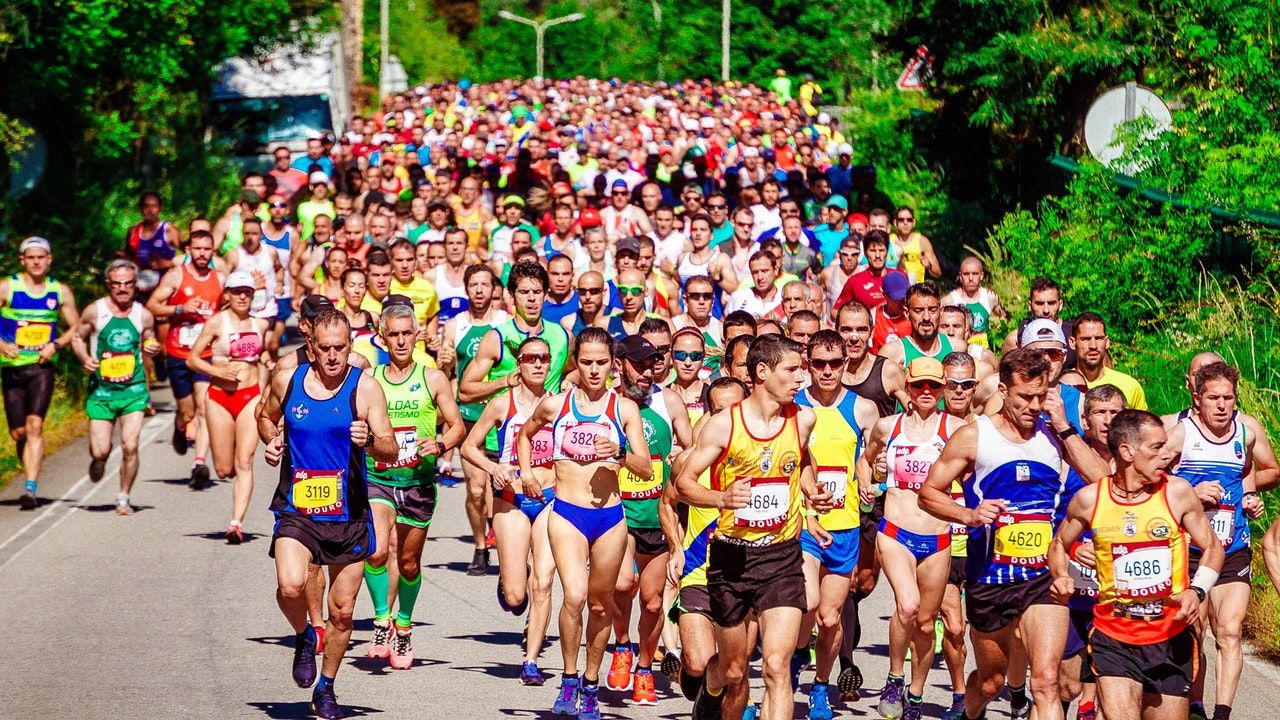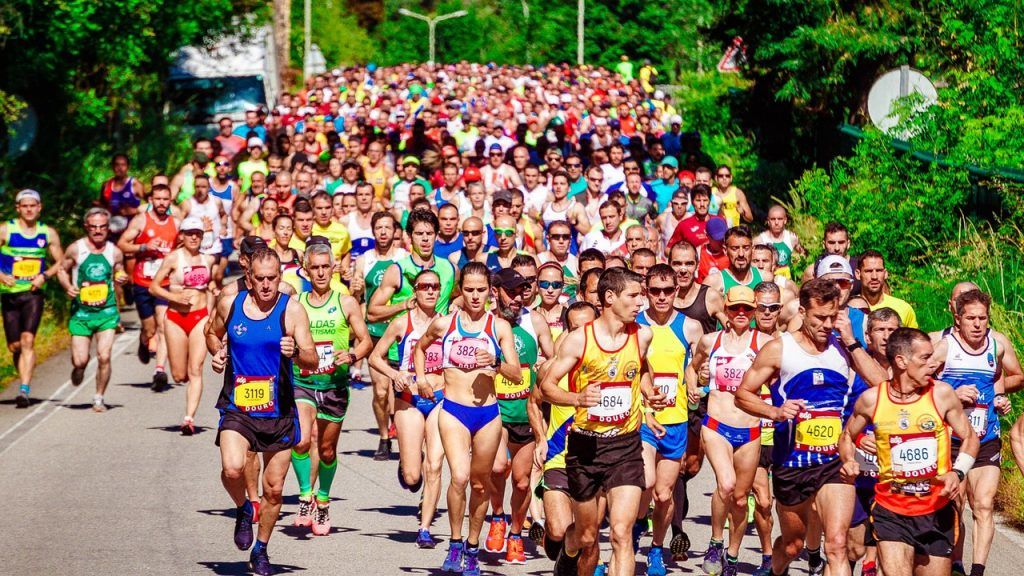 The high number of participants that this race attracts worldwide makes it quite difficult to gather all the data from each race into one succinct compilation of national averages. So far, however, an assembly of data from the Running USA Organization estimates the average finish times for half-marathon runners. While the completion time varies from runner to runner due to many factors, the averages recorded in 2016 are 2:05:15 for male participants and 2:23:48 for females.
The national and international average times can notably change from year to year as well. This can be due to the fluctuations in the number of participants and running trends. 2020 also was a year of irregularities, after many events had to be cancelled due to the ongoing COVID-19 pandemic.
What Is a 'Good' Half Marathon Time?
If you are looking for some inspiration to crush a new PR, you might be interested in record times or on what is a good half marathon time. Let's take a look at some world records in the category of half marathon runs first.
World records
As of February 2021, the world records in half marathon are as follows; for males, the fastest is Kibiwott Kandie from Kenya at a finishing time of 57:32 minutes, the second is Jacob Kiplimo from Uganda, who finished at 57:37, and third Rhonex Kipruto from Kenya, at 57:49. Interestingly, these records have all been set in the same race in the Valencia Half Marathon in December 2020.

For females, the current world record in half marathon is held by Ababel Yeshaneh from Ethiopia, at a finishing time of 64:31 minutes. The second best is Yalemzerf Yehualaw from Ethiopia at a 64:46 finish time, and the third is Kenyan runner Brigid Kosgei, who finished at 65:49 minutes. The three of these records have also all been set in 2020.
Good finishing times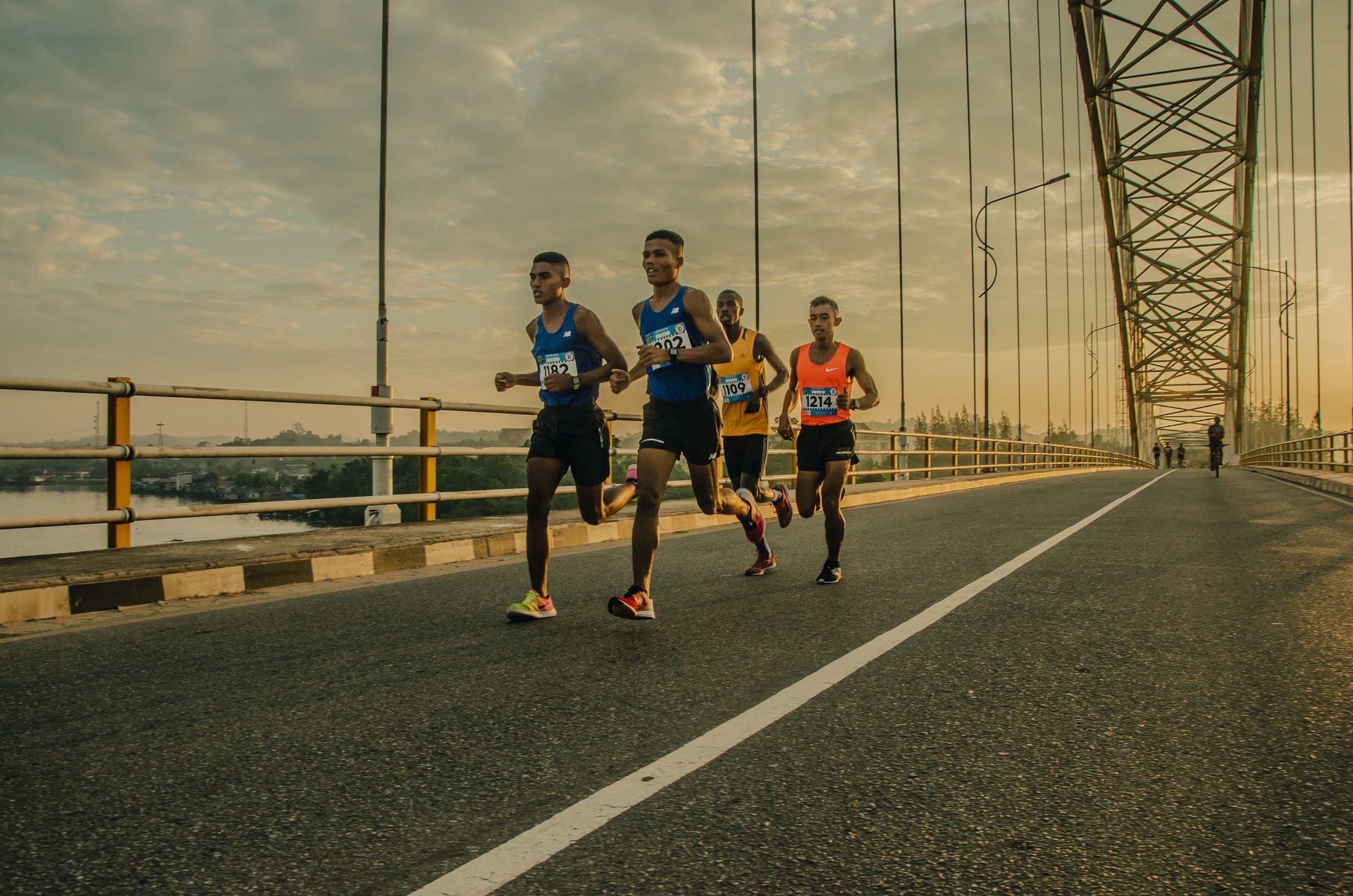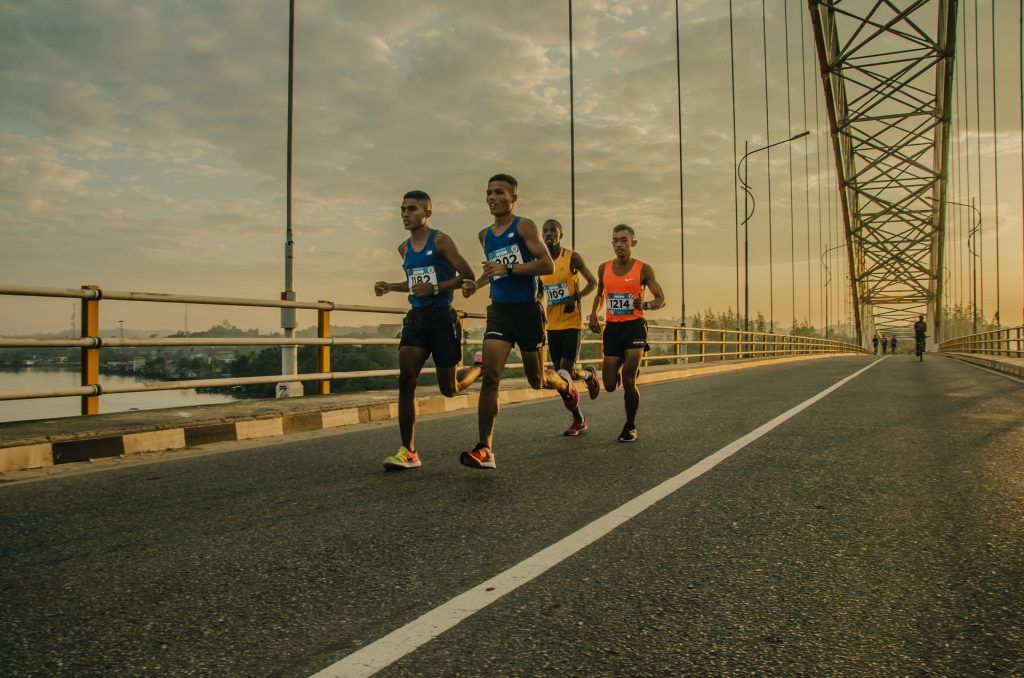 'Good' is a broad term when it comes to a half-marathon. What you may consider a good finishing time is crucially dependent on your personal goals. Likewise, a good time for you may be too ambitious for someone else.
Breaking records
If you are looking to break a personal record, referring to your past PR is the simplest course of action. Another (perhaps more ambitious) alternative is to compare world records and the average finishing time and set a time in-between that you think is attainable. Experienced half marathoners will often aim for a sub 2 hour finishing time, which means maintaining around a 9:09 minute per mile pace. Seasoned and more competitive runners will aim for an even shorter finishing time, such as an hour and thirty minutes, achievable by maintaining a 06:52 minute mile or faster.
Beginner-friendly time
If you are a half marathon novice, your finishing time will instantly become your PR. However, that does not mean you shouldn't set a goal that you can strive for. In fact, participants are often asked what their estimated finishing time will be when they register for the race. There are some approaches to consider if you want to predict your finish time.
Remember your weekly mileage and your 5K and 10K runs? Besides the obvious physical conditioning, this is when they come in handy for the logistical part of planning for your half-marathon. You can use the finishing time and average pace during your long-distance runs to calculate your estimated half-marathon time. Usually, as the distance doubles, the running pace drops by 4-5%. Here is a simple calculator to predict your finishing time based on your previous long-distance run, or check out this Strava chart to calculate your finish time based on your pace.
Factors Affecting a Half Marathon Time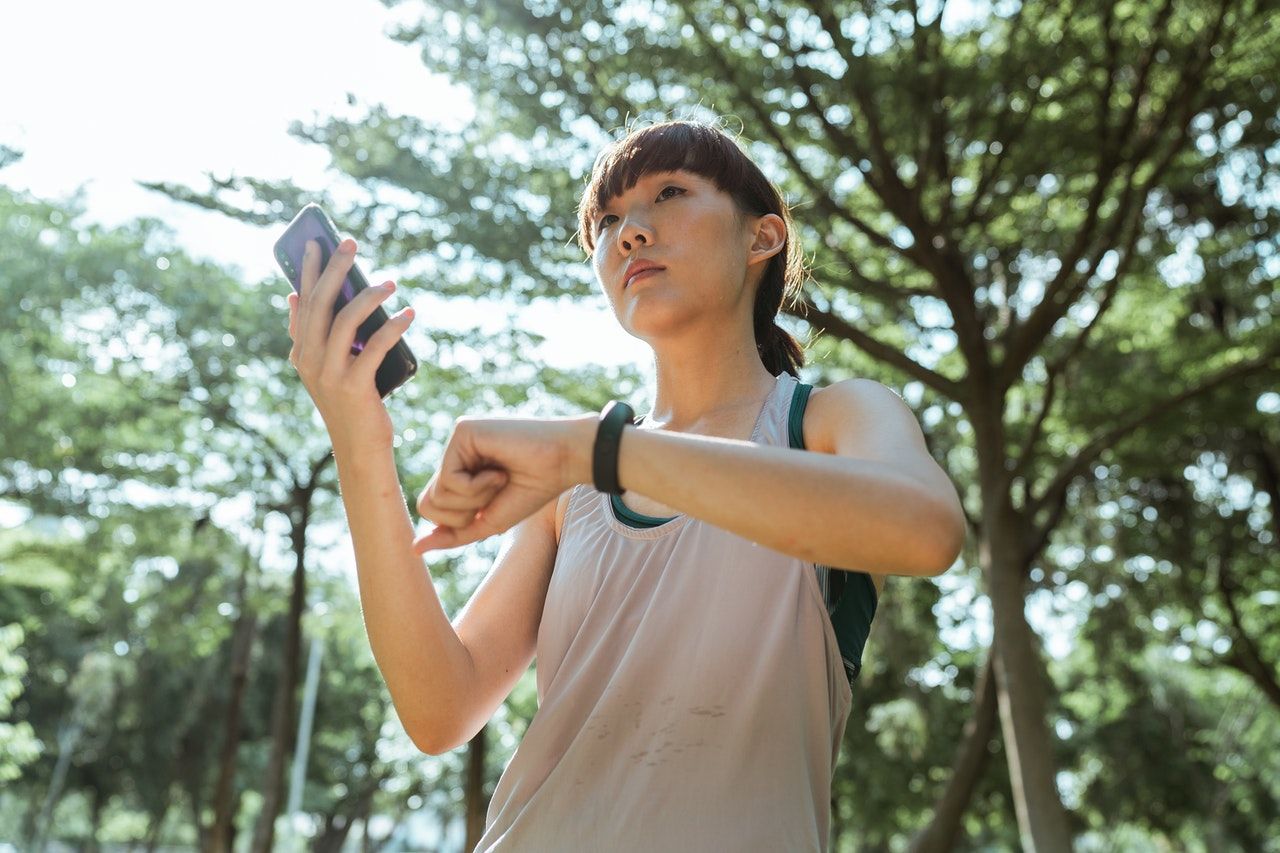 There is a reason as to why deciding on a good half-marathon time is such a complex process. There are so many factors to consider which can affect your speed during a long-distance run. First, there is the overall fitness level; they don't pointlessly say that practice makes perfect. Endurance runs require that you train ahead and have accumulated a certain mileage prior to your race.
Further, there is a slight sex difference, in which male participants can have an advantage when it comes to speed due to a commonly larger aerobic capacity and muscular strength.
Age is another biological factor that affects speed over time, depending on fitness level. Elite runners have been observed to reach peak performance before the age of 35, from which their performance seems to decline. However, in more recreational runners, age does not play as significant a role before middle age.
Other factors that may affect your half marathon time are weather and terrain. A rainy race day and an incline running course will surely hamper your speed. Similarly, hot and humid weather can also cause fatigue and affect your performance.
Tips for Getting Better at Half Marathons
Training properly is half the battle of half marathons. If you are looking to improve your performance and speed in your next race, here are some things to bear in mind:
Set a goal time
Setting something to work towards, the motivation we have in us, is a special mental fuel that keeps runners going during the race day. Again, regardless if you are an elite runner or someone who runs recreationally, setting a time goal to work towards is always beneficial. Remember to keep it realistic; set a goal within your physical capabilities, but also push yourself outside of your comfort zone.
Make a consistent training plan
Consistency is always key, and this applies to your training period as well. Adjust your training according to your fitness level, goals, and daily routines. Work with a maintainable plan and gradually add mileage over time as you progress, rather than overexerting yourself during the beginning of your training.
Include variety in your training
Half marathons are categorized as endurance runs, which is why it is crucial to build strength and stamina to take on the long-distance. A good way to build endurance is by incorporating different speed runs during your training sessions rather than just running at the same pace and distance every time. Similarly, hill training and trail running are good ways to incorporate variety in your runs. Cross-training and strength training are also just as important; they help to target muscle strengthening, preventing injuries and improving speed.
Check your running technique
After some miles, it can become more difficult to run as gracefully as those first ones. Still, it would help if you kept in check with your posture, form, and running technique, as they might be impacting your run more than you think. Injuries are also best prevented when you pay attention to your stride; ideally, you want to opt for a shorter stride at a quicker pace so you don't put as much pressure on your feet when they hit the ground. When your feet strike the ground, avoid landing on your heels, as this also puts pressure on your ankles. Your posture should be tall, with your back straight and your gaze forward.
Don't skip rest days
Yes, training is important, but so is taking a break when you need to. Your muscles will need time to recover and regain strength, especially when you train long distances. Rest days and recovery days allow us to adapt to both the physical and psychological demands of running or any exercise, for that matter.
Speed is trained over time; the accomplishment of half-marathons is forever. However you perform, always keep in mind that it makes you courageous just to be there.