Running as an activity is meant to get you out of your comfort zone, but that does not mean your feet should suffer. A nicely fitting running shoe will make all the difference when it comes to picking the right shoe for you. The right fit is crucial to get the most out of your run, prevent injuries, and improve your gait.
How Should Running Shoes Fit?
A running shoe may feel comfortable at first, but this won't ensure that the comfort will last after running for a couple of miles. A couple of extra steps to take when you are trying on your shoes include making sure that the shoe feels snug in the part of the heel and the midfoot. These parts of the shoe should neither be too tight as to not allow your feet to breathe and nor too loose that your feet won't have the right support. When you try them on, hold the back of your shoe and raise your feet. If you can move your heel freely, that means you should probably choose a smaller size.
The next thing to check is how the shoes fit your toes. They should not go over the front or the sides and there should be about 1/2 to 1-inch free space and enough room to wiggle them. This area should feel a bit more spacious since the vamp of the running shoe is typically the most flexible part, and that movement of flexing will incorporate your toes as well.
Shoelaces should secure your shoes and ensure that extra comfort, but check the rows of the eyelets first. These are the holes that are punched in the upper so that you can insert shoelaces. They should be almost parallel and not be touching each other when you have laced your shoes snugly.
Why is Finding the Right Fit so Important?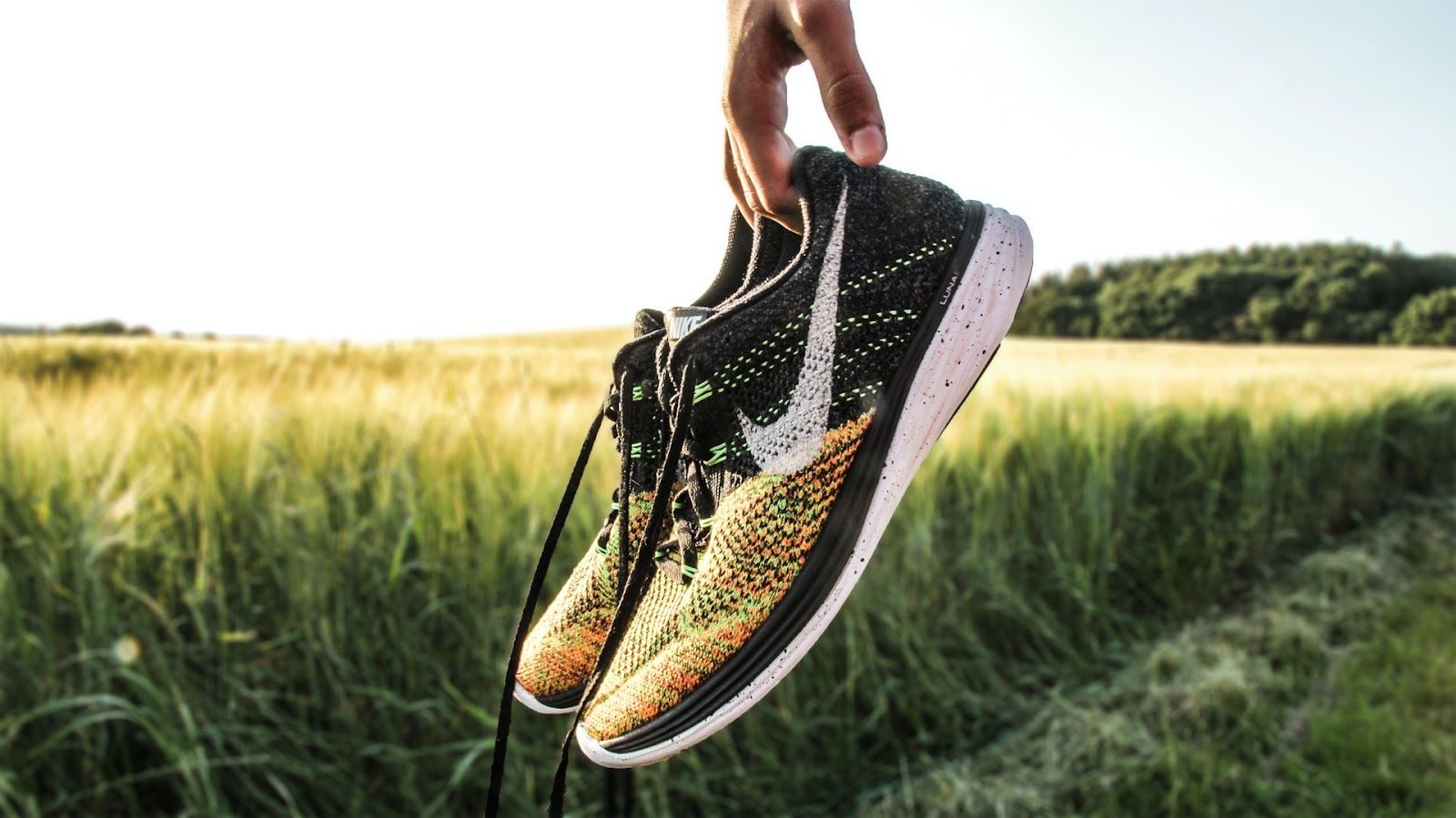 The benefits of a nicely-fitting shoe go beyond comfort. The right shoes and a proper fit have a bigger impact on running performance than we think. The good fit offers the needed support and helps to accentuate the shock absorption qualities of a running shoe. However, the wrong size shoes' impact can be a bit more drastic and consequently, more easily detected. You may feel discomfort right away, as problems may arise especially after wearing the shoes for a while. Getting an incorrect fit can contribute to injuries such as pinched nerves, stress fractures, heel pain, sprains in the ankle, tendon inflammation, calluses, blisters, or bunions.
How to Choose Running Shoes Size
If you are unsure about your running shoe size, you can ask a specialist at a shoe store to help you find your foot measurements and determine your size. Or, you can do it yourself through these easy steps:
Measure your feet
1. Get a measuring tape or ruler, a pen, and a piece of paper or cardboard.
2. Place the paper or cardboard on a flat surface and place your feet on it.
3. Take your pen, and while holding it upright, trace a thin line around your entire foot.
4. Measure the vertical distance between your longest toe and the heel, which you can see on the traced outline. This is your foot height.
5. Measure the horizontal distance across the widest part of the foot's outline. This is the width of your foot.

Repeat this step with both feet, as it is very common that one foot is slightly longer than the other. For determining your foot size, you will want to go with the measurements of the larger foot.
Find your measurement on size charts
A lot of shoe companies will include size charts to help you find the right fit for you. Here are some of them:
In general, most manufacturers recommend going 1/2 size to one size larger than your dress shoe, due to the increase in foot volume when running. If you have measured your feet and it falls between two shoe sizes, rounding up the number is a safer bet than rounding down.

Size Chart Examples:

Adidas Size Chart
Heel – Toe in Inches
Men US Size
WomenUS Size
9″
4
5
9.1″
4.5
5.5
9.3″
5
6
9.4″
5.5
6.5
9.6″
6
7
9.8″
6.5
7.5
10″
7
8
10.1″
7.5
8.5
10.2″
8
9
10.4″
8.5
9.5
10.6″
9
10
10.8″
9.5
10.5
11″
10
11
11.2″
10.5
11.5
11.3″
11
12
11.4″
11.5
12.5
11.6″
12
13
11.8″
12.5
13.5
12″
13
14
12.2″
13.5
14.5
12.3″
14
15
12.4″
14.5
15.5
12.6″
15
12.8″
16
13″
13.2″
17
13.6″
18
14″
19
Nike Size Chart
Heel – Toein Inches
MenUS Size
WomenUS Size
8 1/8″
–
4
8 3/8″
–
4.5
8 1/2″
–
5
8 11/16″
–
5.5
8 13/16″
–
6
9″
–
6.5
9 3/16″
–
7
9 3/8″
–
7.5
9 1/2″
6.5
8
9 5/8″
7
8.5
9 7/8″
7.5
9
10″
8
9.5
10 1/8″
8.5
10
10 3/8″
9
10.5
10 1/2″
9.5
11
10 5/8″
10
11.5
10 7/8″
10.5
–
11″
11
–
11 1/8″
11.5
–
11 3/8″
12
–
11 1/2″
12.5
–
11 5/8″
13
–
11 7/8″
13.5
–
12″
14
–
12 1/2″
15
–
13 1/8″
16
–
13 4/8″
17
–
12 2/8″
18
–
14 1/2″
19
–
15 "
20
–
15 1/2″
21
–

What Can Cause a Change in Shoe Size?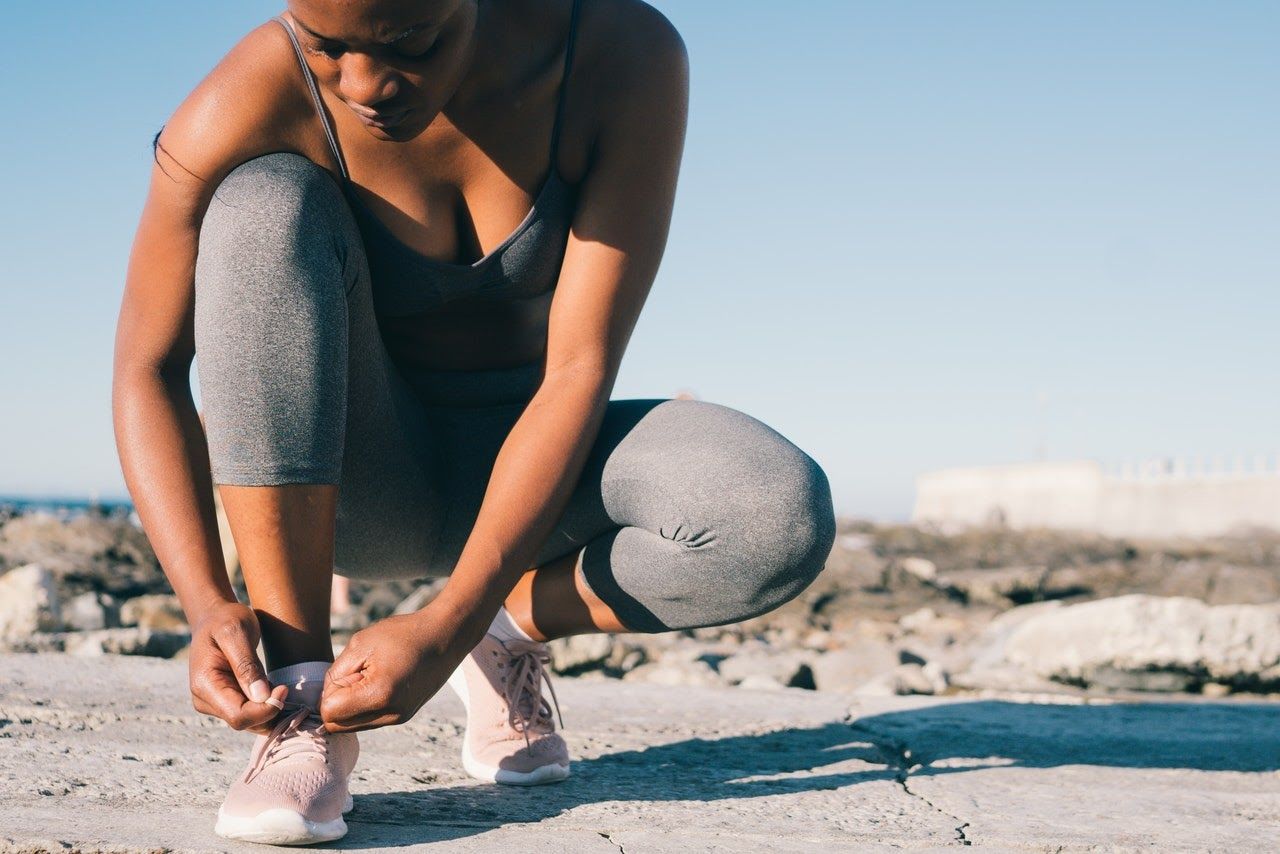 Your shoe size can often mislead you and change faster than you would expect. Over time and with age, ligaments and tendons start to lose their elasticity, causing our feet to get longer and wider. In women, pregnancy can also be another cause of increased shoe size due to the hormones that are released. Moreover, injuries, calluses, or bunions can all contribute to change in size.
Other Things to Consider
Socks – When shopping for new running shoes, bring a pair of socks that you would usually wear when running. If they are a thinner or thicker material than your usual running sock choice, socks can affect the fit of the shoe.
Time of the day – The time of day when you try on new shoes matters more than one would think. To improve circulation, your blood vessels will dilate during the day, which can cause slight swelling. Therefore, it is recommended to go shoe shopping later during the day so you can anticipate changes in your feet when trying on a new pair of running shoes.
Shoe sizes can vary depending on the brand – Brands usually develop their own sizing during production. Just like with clothes, there can be slight differences from brand to brand when it comes to sizes.
Do not hesitate to ask for help – Salespeople will most often know when a shoe size of a brand runs larger or smaller than the other. They will also assist you in case you do not know your exact measurements. Beyond that, if you have specific requirements for your shoes, they can give recommendations.
This was a comprehensive guide to finding the perfect fit for your running shoes. Remember to opt for comfort rather than aesthetics, as proper support is essential, especially in long-distance running, when your feet need that extra push.